I have always loved gardening and have fond childhood memories of planting sunflowers in the garden with my mum in the spring, which we would cut and scatter around the house to brighten up the place. Despite loving floristry and gardening, I unfortunately did not inherit my mother's green fingers. As she's no longer around to teach me I seem to have developed a talent of pushing every plant I own to an untimely death,my most recent victim being a mint plant (which is apparently notoriously easy to grow!). However, I have recently been introduced to Freddie's Flowers and it has changed my luck and my life!
My neighbour recommended Freddie's Flowers to me a few weeks back while I was admiring a bouquet of gorgeous flowers he had in his front windowsill. He explained that I could get a subscription of flowers sent to me on a weekly or monthly basis, and the best part was that each bouquet contains a care instruction guide and information on how to properly look after them. I decided to give Freddie's a try, and I am so glad I did – now my house is full of beautiful flowers that even I haven't managed to push to an early grave yet! Better yet, I've learnt so much about floristry and arranging and even developed a new hobby along the way. I just have to share my experience with using Freddie's Flowers, because my subscription has genuinely changed my life!
Freddie's Flowers have kindly given Lifestyle Reviewer readers a discount so you can get 50% off your first TWO deliveries! Click HERE to get it applied directly.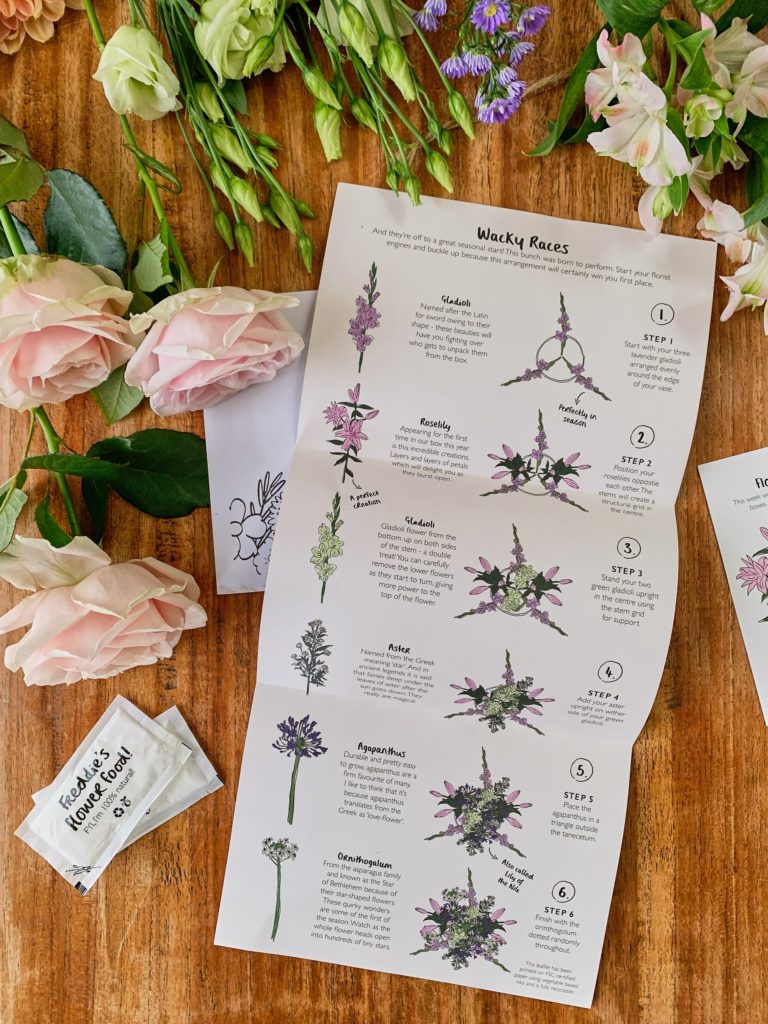 When your arrangement arrives from Freddie's (in recyclable packaging), the flowers are young buds, so you get to watch them bloom over time, and they last so much longer than any other bunch of flowers I've had before – some of them over 2 weeks. I think the general quality of the flowers is worth noting, but what makes Freddie's even better is that each bouquet comes with full care information specific to each type of flower, a step-by-step arrangement guide and tips and tricks to help your flowers last as long as possible. What is really nice is that the guides are all really personal, with comments from Freddie himself. The arrangements are always stunning and contain far more flowers than those you would buy from the shop- and they last twice as long!
I recently discovered that Freddie also posts weekly video tutorials which you can follow along to arrange your flowers perfectly. I feel like I'm getting a full flower arranging course with my subscription! It has become a new hobby of mine, certainly a great way to unwind and take some time for yourself when life gets a bit hectic. Another great thing about Freddie's Flowers is that they show you how to adjust your arrangements as the flowers develop from buds to full blooms, so they always look great at every stage of their life. The tutorials are all really easy to follow, with clear instructions and pictures for every stage, and are appropriate for all ability levels- I was even able to help my niece and nephew try it out by following along with one of the videos. Equally, more advanced information and techniques are also supplied for those with a bit more experience, some of which I've been able to try now I'm a bit more confident with my arrangements.
Freddie's Flowers have kindly given Lifestyle Reviewer readers a discount so you can get 50% off your first TWO deliveries! Click HERE to get it applied directly.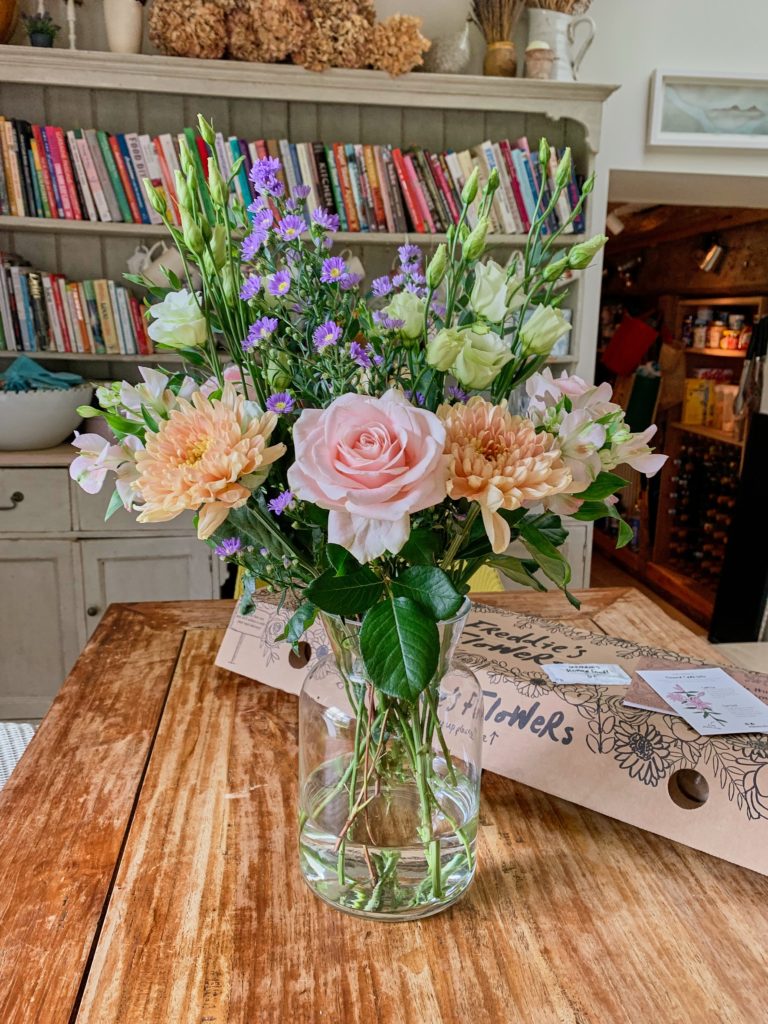 Everything you need is included in the box with your bouquet so it's a very accessible way of trying your hand at something new. I love that I can learn a new skill, and then I get to enjoy my creations for weeks afterwards! Flower arranging isn't a hobby I ever thought I'd take up, but I am so grateful I fell into it through Freddie's Flowers because I absolutely love it (and dare I say I think I'm getting good at it!). I'm even planning to try my hand at making a wreath for my front door now I have a foundation of floristry knowledge.
Similarly, I also think this subscription would make a great gift- not only are you giving someone gorgeous flowers every month but a whole course on care and arrangement too – without the price tag! I'm planning to get a subscription for my sister's birthday next month after she admired my creations. It's perfect for my sister too because she is very environmentally conscious, and Freddie's uses all eco-friendly packaging (which they've still managed to make look pretty).
I really can't recommend Freddie's Flowers enough, I am actually surprised it is so affordable considering how much information and guidance they give you, it's like being at floristry school! Thanks to Freddie I have managed to go about nine weeks without killing a plant- my mum would be proud!
Freddie's Flowers have kindly given Lifestyle Reviewer readers a discount so you can get 50% off your first TWO deliveries! Click HERE to get it applied directly.
This article contains a sponsored offer from Freddie's Flowers.