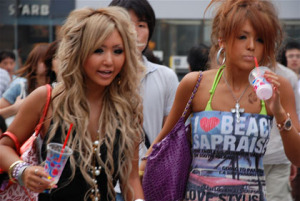 A tan can instantly improve someone's appearance; it can transform skin from sallow and washed out to glowing and radiant, make teeth appear whiter and create the illusion of a slimmer frame. Many women say they feel more confident and attractive when tanned, and the rise of reality shows like The Only Way Is Essex – where a deep tan is not solely reserved for a big night out, but is regarded as an all-year-round essential – has triggered a massive boom in the UK sunless tanning industry. The salon spray tan has seen the most significant increase in popularity and has since become a particularly lucrative trade, with many women choosing to start their own mobile spray tanning businesses to provide customers with a coveted golden glow from the comfort of their own home.
Many holidaymakers relish sun-soaking sessions and the natural glow achieved as a result, but the health risks posed by sunbathing are high. A natural tan is obtained by exposing the skin to UV rays from direct sunlight, causing cells in the epidermis to release the tanning pigment melanin. When exposed to high levels of UV light, the melanin darkens, causing the skin to tan. Overexposure to UV radiation is widely known to cause skin cancer, as well as cataracts, immune problems and premature aging of the skin; it is thus recommended for keen sunbathers to use appropriate sun protection and adhere to safe sunning practises. Fake tan has been regarded as the 'harmless' way to get a golden glow for several years and faking it, rather than sunbathing, is actively encouraged by the media and health boards worldwide. Sunbeds have been the subject of particular scrutiny due to the severe health risks frequent users are subject to; they emit an extremely high level of UV radiation which penetrates deep into the skin. While these widely promoted health risks have led to the decline of sunbed use in recent years, the popularity of fake tan has conversely boomed, and its many forms (canned, bottled, sprayed) ensure that tan aficionados who don't want to risk their health are never short of ways to fake a bronzed bod.
However, it has now been suggested that the 'safe' salon spray tan could in fact be harmful to health. Many spray tanning formulations contain the toxic chemical DHA (dihydroxyacetone), which is inhaled and absorbed into the bloodstream during the application process. Excessive absorption of DHA can trigger diseases such as asthma, emphysema and lung cancer, according to American scientists. A recent study has highlighted that DHA can cause cancerous tumours, and that people with breathing conditions such as asthma should avoid inhalation of the substance. Dr Rey Panettieri, a researcher at the University of Pennsylvania, says this: "For casual users, it's probably fine…But for those who go regularly for spray tans it could lead to cancer or the worsening of chronic obstructive pulmonary disease." Other risks associated with spray tanning include skin irritation, infertility and foetal damage in pregnant women. The accuracy of these claims is currently uncertain, but the good news is that the possible risks do not apply to tanning lotions applied directly to the skin, as the DHA found within these solutions is not absorbed into the bloodstream. So, for those who can't live without their weekly Fake Bake fix, a possible solution would be to save the spray tans for special occasions (making sure to shield the eyes with goggles and keep the mouth closed during application) and revert to the bottled bronze instead.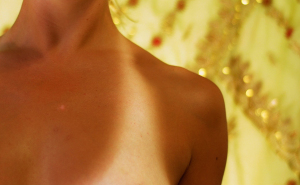 To get the best results from your tanning lotion, use the following tips:
– Prep your body properly before tanning: exfoliate thoroughly with a body scrub like Soap and Glory The Breakfast Scrub and moisturise well afterwards.
– Use a tan enhancer to prolong your healthy glow: St Tropez Tan Optimiser brightens the tone of an existing tan and prevents patchiness.
– Gradual tanning moisturisers like Dove Summer Glow are ideal for adding natural looking colour to the skin. Add a light sweep of bronzer to cheeks and nose for a subtle glow that doesn't scream 'tangoed'.
– Alternate between natural and bronzed each week: many current beauty trends work best on pale skin. Apply a deep berry-toned blusher like 17 Damson Wine along cheekbones for a sophisticated, vampy effect – don't be afraid to switch up your make-up and keep your look fresh.